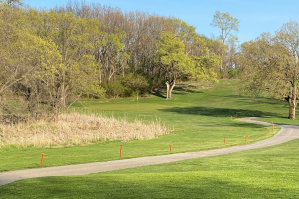 Built in 1925, Oak Knoll Golf Course in Crown Point Indiana has been a staple of Northwest Indiana golf for years. Located just west of the Crown Point Indiana, this 18-hole public golf course offers a great experience for golfers of all ages and abilities.
If you're new to the game of golf, you'll find the wide fairways and relaxed play very enjoyable. For the experienced player, our smaller greens should provide a nice challenge for your short game.
Our Clubhouse features a full-service bar area that offers a great place to relax before or after your round of golf. Our facilities also provide the perfect venue for your next golf outing. Make a tee time or book an outing, our staff will be happy to take care of the details.
Scorecard
| Hole | 1 | 2 | 3 | 4 | 5 | 6 | 7 | 8 | 9 | Out |
| --- | --- | --- | --- | --- | --- | --- | --- | --- | --- | --- |
| Par | 4 | 4 | 4 | 4 | 3 | 5 | 3 | 4 | 4 | 34 |
| Blue 66/107 | 341 | 385 | 300 | 375 | 170 | 258 | 135 | 365 | 350 | 2679 |
| Handicap | 9 | 5 | 16 | 7 | 12 | 18 | 15 | 3 | 8 |   |
| Red 64.5/101 | 283 | 236 | 286 | 319 | 144 | 197 | 123 | 297 | 288 | 2173 |
| Hole | 10 | 11 | 12 | 13 | 14 | 15 | 16 | 17 | 18 | Out | Tot |
| --- | --- | --- | --- | --- | --- | --- | --- | --- | --- | --- | --- |
| Par | 5 | 5 | 3 | 4 | 4 | 4 | 4 | 4 | 3 | 36 | 70 |
| Blue | 460 | 490 | 155 | 325 | 350 | 425 | 321 | 318 | 186 | 3030 | 5709 |
| Handicap | 10 | 2 | 17 | 13 | 6 | 1 | 14 | 11 | 4 |   |   |
| Red | 340 | 408 | 115 | 229 | 278 | 331 | 257 | 234 | 125 | 2317 | 4590 |